New contents and articles give a fresh feel to businesses and publishing houses that have spread their reach through online marketing. It also helps the business gain more readers and customers. You may be having the feeling that your online business page needs a change too but might be at a fix regarding which services to go for. So here's why you should go with us. A text rewriter has to have a flair for writing and understanding what is being written. Rewriting text online is different from creating an article or a write-up of a given topic. An
online article rewriter
does not have the freedom to change the meaning. The task is to rewrite content creatively in a new way by keeping the meaning clear and unchanged. Only a well qualified, well trained and experienced rewriter can give you that. And we have exactly such text rewriter at your service.
Why Our Text Rewriting Help?
While rewriting texts there are certain things our text rewriter keeps in mind that helps you get more people to read about your businesses or publication.
These are as follows:
Our writers strictly avoid plagiarism. If a content that is rewritten is a copied work it is meaningless to rewrite it. We take in the details of your business and rewrite it.
The rewritten texts contain short, precise and to the point sentences as that holds the attention of the readers.
The sentences written are simple without any bombastic words so that people can easily understand what it says.
Formatting is done according to your preference and style.
You can avail additional research for your project if you want.
See how our text rewriters can help you!
*Move your mouse to see the changes!
6 Tips That Will Make Rewriting Texts Faster
Rewriting fast can be a challenging task in almost every way. Most people tend to have big trouble doing it, especially when it comes to long articles. But there's not a problem or mishap impossible to fix if you follow these rewrite text tips:
One of the main mistakes most people make when rewriting a document is that they refuse to read and be aware of what the text is trying to say as a whole, in each paragraph, and in each sentence. For a more efficient rewriting it is almost critical to do this, or else the result won't be as good as expected. You just have to read the article meticulously, reading every word, sentence and so on – understand the meaning and purpose altogether – and then you can start rewriting and changing the words with more effectiveness.
You want to rewrite an article really fast because you're soon to meet the deadline, but the article needs to be rewritten in 1 or 2 hours and it is 2000 words long. You may be able to do it, yes – but it is very likely, even more so, that you won't make it on time. When you rewrite, if you want to write faster than ever before, you need to be realistic. A 2000-word article, for example, can't be rewritten in 1 or 2 hours, unless you are not willing to give your best and simply rewrite each word no matter the result.
Now that you know what the article is about and you have enough time, you need to start planning and organizing what and how you are going to rewrite. It happens very often that people begin rewriting an article without having a plan for the content. This ends up in stuck writers who don't know how to keep going with the article, or just who don't know how to rewrite a particular idea – and finding a solution to this can take a lot of time. So, just plan ahead every paragraph and sentence, so you can eventually have a smoother rewriting experience.
Want the secret to rewrite fast? Just rewrite. That's it, you won't find anything complicated or more essential than just rewriting. Yes, you need to plan ahead, create your structure, make sure you understand what you're going to reword and so on. Yet, it is all about rewriting, and that's it, don't expect to get anything done if you don't put your mind into it. Eliminate any distractions, don't get stuck in word games, and just get it done before it's too late. That's the best way to rewrite faster.
You don't have to rewrite everything on the first try. Actually, doing it all in a single sitting may eventually become harder and slower than doing it in split periods. If the article is more than 1000 words, this holds even more importance. What we recommend is to write in chunks of time of about 20 to 30 minutes, then give yourself a rest for about 5 minutes – this will help you to think about a better way to rewrite or even give you enough time to revise what you've already rewritten. Sometimes, getting these 5 minutes to just put your mind at ease before rewriting again gives you enough energy to write even faster later – so split your rewriting into chunks and do it even quicker.
Even though you want to rewrite faster, it is still essential to check that everything is in place and grammatically correct. Start by checking for typos, then go for the grammar and finally end up making a final read to fool-proof the article you've just rewritten. A fast rewriting is not useful if the writing is not good enough. So put your mind to it and make sure it is not only quick but well-made. Maybe, with the right editing, you won't even need a text rewriter.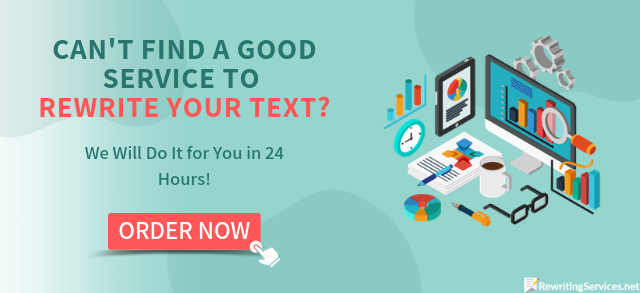 We Will Rewrite Text Professionally
Our text rewriters are very professional. Our writers rewrite paper without compromising with the quality of writing at the same time maintaining the submission date. Moreover, our review team takes special care in reviewing the written piece to be prim and proper and unchanged in meaning with the original content. A sample draft of text rewriting is also sent and all the necessary editing with respect to the client's demands is made.
Our Text Rewrite Services Do Not Have Any Hidden Charges
By choosing our text rewriter you can be sure of being in safe hands. We do not have any extra charge added for the additional research being demanded by our clients. Neither there are any hidden charges that are asked for at the time of submission.
Best Essay Rewriting Service Benefits to Get
In case you want to get the most professional rewriting texts with a good text reworder who has many years of experience in the paraphrasing field, you should check the benefits that we offer to every our client without any exceptions.
While we work with text rewriting we use a rich vocabulary
Our service is customer-oriented that is why there are almost no dissatisfied clients
In case you are not happy with your rewritten text by our essay rewriting service, we would return your money back
All our rewriters and editors are fluent in the English language
Let our rewrite text experts serve you and help with text rewriting to take your business one step ahead of others!