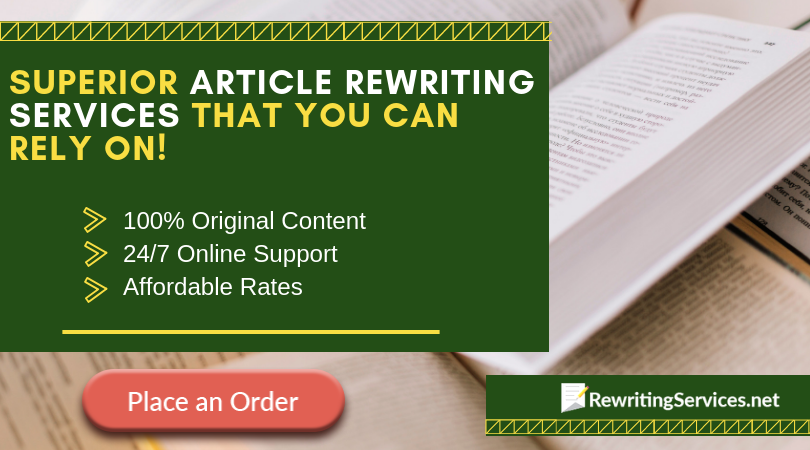 Guidelines on How to Rewrite an Article
Even though our writers can deliver premium-quality work when rewriting your articles, it is still essential for you to know how it's done. Not only will it help you learn how our writers work, but it will also allow you to learn more about the process of rewriting an article like a professional, so you may do it by yourself later.
Here's a list of guidelines to follow:
Topic
First off, you must know what the article is about. Most articles come with a title and an introduction, enough to understand what the material wants to talk about. The first thing you need to do when rewriting an article is to make sure how the topic is addressed and how the original writer wanted to explain the topic. It could be explanative, descriptive, argumentative or by definition. A good rewriter sticks to the same subject and type of writing unless told otherwise. This will help to make it easier and much more accurate.
Articles can be written in many ways and styles, and that's all about meeting a specific target or audience. For example, conversational tone with an informal style is the most common for blog articles – as it is easier to understand and targeted to a general audience. Research articles, on the contrary, use a more formal writing with an academic tone, so people with background knowledge can understand it effectively and with more depth. No matter the topic, you must know what the article wants to portray, how, and why. Then, you can write accordingly using the proper tone and style – for a more efficient and accurate rewrite.
Critical to every time you're trying to rewrite an article and a pretty good reason to rewrite as well. You may need to enlarge or shorten a material, whether it is to add or eliminate information – but no matter the reason to do it, the length needs to be considered so you can plan ahead how you're going to make it work. If for example, you need to rewrite a 1000-word article and make it 500 words, you will have to eliminate a lot of info. But on the contrary, if what you need to do is to enlarge a 500-word article and make it 1000 words, you will have to incorporate much more content. Consider the length, plan accordingly and make it possible without problems.
Especially when you are not an expert on the article's subject, you must do an investigation so you can understand and learn more about what the article is talking about. Something most people forget is that having an idea about something doesn't make it real, never. So, it is vital to research the subject before putting anything in paper. This way you can avoid unrelated, false, and inaccurate information. Actually, rewriting an article because the content is wrong is one of the most common causes to rewrite. So, if you don't want anyone else rewriting what you are rewriting or eventually having to rewrite again because you write about something that is not correct – just do your research, it takes time but it's totally worth it.
Do as if you were writing an article for the first time, use drafts. It is a way of planning your article and the same time to find the most effective way to do it. Using summaries, or at least one, will make the text a lot better entirely, especially when you are committed to doing it well. A draft makes it easier to spot badly presented ideas, it will also help to find the perfect style and eventually make it much easier to follow with a better structure and construction. Get to write at least one draft before the official rewriting, and you'll see how much you can spot.
Scan the article, look for mistakes, and check for poorly written sentences and wrong ideas. Make sure everything is in place and correctly presented, and that it is entirely improved from the original article. The primary purpose of rewriting is to enhance the content, more than just enlarging or shortening, it is to make it look better than before, that it is easier to understand, and more efficient. When you finish writing, always remember to check for anything that could be uncomfortable to read, hard to follow, or just wrong. Then, after you've made sure everything is in the right place – you will have rewritten like a professional.
Avail Professional Help with Our Rewrite Article Online
There are problems commonly experienced by the majority who are trying to rewrite online their articles effectively. Remember that aside from originality, it is important that after rephrasing online you also consider the words that you will be using. Effectively rewriting your articles require you to choose carefully the words that you will use given that this helps maximize the impact of your article. If you do not know how to write article online, our company has a large pool of professional writers that are more than happy to extend their services anytime you need help.
Rewrite Articles Online for 100% Error and Plagiarism Free Papers
The main advantage when you avail our services would be quality. We pay attention to the excellence of our service which is why we constantly update our services and the tools we are using in order to make sure that you will receive nothing short of premium writing help. We can make it even more efficient on your part to rewrite article online as we offer both time and cost efficient solutions. If ever you find yourself struggling with articles rewriting, make sure that you save yourself the trouble and simply avail our professional rewriting help online.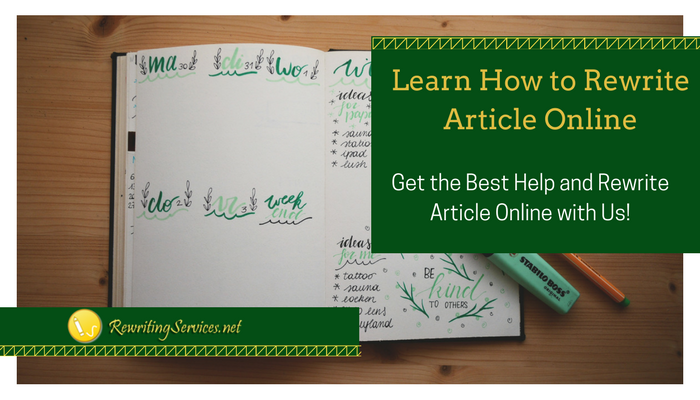 Get the Best Help and Rewrite Article Online with Us!
The success of our online rephrasing tool and paraphrasing service is credited to our team of professional writers that are available 24/7 in order to give you the best writing help. We can make sure that you will receive the best writing assistance available online. In fact, when you do rewriting article online with us, you will not only make use of the expertise of our writers but also the innovativeness of our rewriting tools.
Get started now and rewrite articles online with our expert writers for guaranteed original content!