There are so many resume writing tips out there coming from all kinds of self-described experts. It's well and good being told what to put on your resume, but no one is able to just hand out the experience you need to learn how to put your achievements in the best possible world. You don't have time for that, and the careers experts who run our Rewrite My Resume service know exactly what you need to do. You also have to know that we provide not only CV rewriting, but other services, and if you think who can rewrite my article, you can rely on us! But, let's get to know more about CV rewording and writing.
How to Rewrite Resume Texts Like a Pro
Perhaps the most important aspect of completing a CV rewrite successfully has to do with keeping up with the latest trends in the business. This shows that you're right in the thick of it in your current job and understand exactly what is required to get a recruiter's attention. On a related note, there are certain common mistakes that you really must avoid.
It's increasingly true that your resume should be limited to a single highly tuned page with plenty of carefully planned white space.
If you can do as much of the legwork as possible so that recruiters know exactly where to look, you're already in their good books before they've even seen what you're capable of. This task is about far more than just resume rewording and our editors advise that you focus on stylistic changes as well, such as putting selected important phrases in italic or bold or rephrase paragraphs in accordance with the position you are applying for (incorporating the keywords from a job application is a good practice).
This is not to say that resume rewording is not a significant part of the editing process because it certainly is. Avoid the schoolboy error of simply describing your job duties and responsibilities. Instead, explain what you actually did and what the effects were. Make it clear that there were evidenced benefits of your having completed a particular project or task and that your presence was indispensable.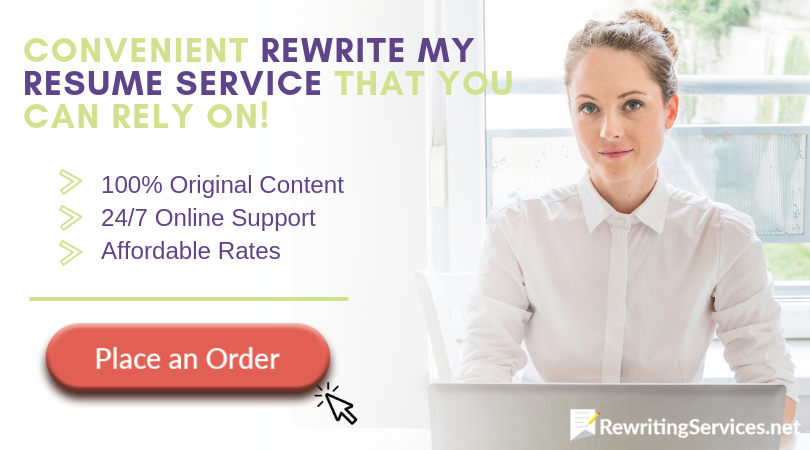 Another thing to consider is the concept of having a master list of everything you've ever done and how you accomplished these tasks. You can then pick and choose the elements you need most for each individual job application. Our editors can run through your master list and insert each relevant point into your resume in the ideal position and in the perfect choice of words.
Top on the list of things you absolutely must avoid is the inclusion of blindingly obvious information. You do not need to include fluff such as "reference available". After all, any serious job seeker is willing to share references and all hiring managers will just ask for them when they want to take a look. There's simply no need for this superfluous waste of space.
Optimize Your Content
Our skilled resume writers understand better than anyone how you can leverage your skills and achievements to get the job you've always wanted. It's all about showing what you can do, rather than just telling. They will demonstrate precisely how you can walk the walk as well as talk the talk.
As indicated by experts like Tony Beshara, who said "fuzzy keywords and phrases should be avoided," optimizing your content is as much about avoiding mistakes as it is ticking all the right boxes. You really don't need to be using silly clichés like "customer-oriented" as this should be an obvious quality, not to mention a necessity if you work with clients at the coal face of a business.
As well as focusing on the effects of your specific actions at work, it helps to quantify your achievements. If your prospective employer can see that your individual contribution to a project led to a 30% increase in sales, they'll immediately realize that you're the real deal. Statistics paint a picture of your actual abilities, and everyone knows that a picture paints a thousand words. Use them to your advantage.
Use strong action verbs when describing and explaining your contributions to previous companies. You can find lists of relevant words online and you really should be using these to leverage your position.
Why Use Our Service?
Figuring out how to rewrite sentence, paragraph or the whole text of your resume is a tricky affair, so it's really best left to the experts. We offer a service that simply doesn't accept second best. Our editors will polish your resume to within an inch of its life, making sure that you are maximising your potential during your annual CV rewrite.
You'll find that recruiters spend an average of 25 seconds looking at each resume that passes the computerized applicant sorting programs they probably use to weed out the weakest job seekers. It's certainly the case that they increasingly look only at the top third or so of any given resume, meaning that you must include all your most eye-catching accomplishments in this golden space. Our experts can help you with this vital consideration.

Our highly experienced CV editors use knowledge accumulated over many years working in the careers and human resources departments of some of the biggest businesses around. They have seen more resumes than you could ever imagine and they've surely sifted through their fair share of duds. So our qualified and expert rewriter will do his best for getting the best result!
By combining the latest trends with an avoidance of the mistakes you'd probably make if left to your own devices, our editing service will cut the fat from your resume and make it shine. Whether you need to dust off your resume after it's been sitting on your shelf for years, or you regularly prune and hone it, the top editors running our Rewrite My Resume service will help you get where you need to be.
Make the most of your job opportunities by getting an expert for resume rewording. Choose our Rewrite My Resume and your future bosses won't know what hit them!