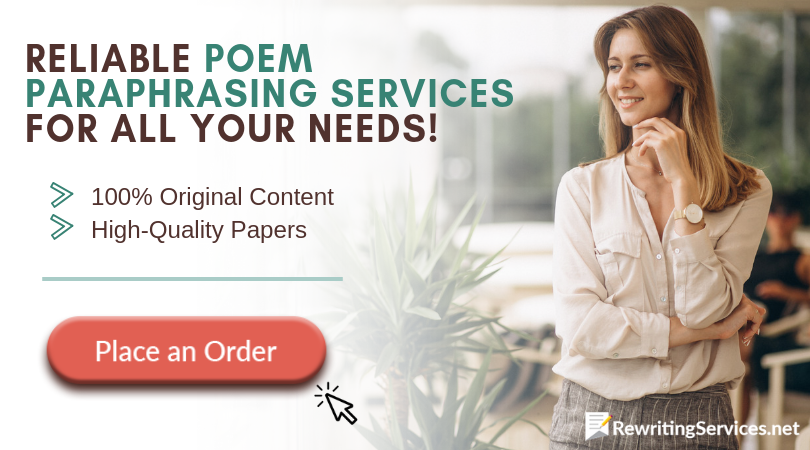 What Is Paraphrasing a Poem?
Paraphrasing is when you repeat what has been said in your own words. These words will be very different to those used within the original but must repeat the full meaning of the source. We use paraphrasing for many different reasons such as to avoid plagiarism and to show that we fully understand what we have read. Knowing how to paraphrase a poem is a skill that you will have to learn as a student.
When we are asked to paraphrase a poem it will almost certainly be to show that you understand the words and images that have been used within it. This is a very common assignment that you will be set and like all of your homework will be something that you will need to perform well at if you want the grades that you need. But paper rewriting can be a very difficult task; especially when you are asked to paraphrase poetry writing. Many attempting it will find that they fail to use words that are unique when compared to the original. Others will find that they fail to capture the full meaning of the poem or that they will add their own interpretations of what has been said.
How to Paraphrase a Poem Effectively
A poem paraphrase is actually very different from many other forms of paraphrasing and you will often be seeking very different results than you would from when you paraphrase other forms of writing. This can make it something that most people will struggle with significantly. But as long as you understand what is being asked of you then you will be able to paraphrase the poem successfully.
Remember that you are trying to reflect the meaning of the poem not simply to change a few words into synonyms so that your version is worded differently. The aim is to show your total understanding and not to simply make the wording unique as you may want to with other forms of paraphrasing.
The following are some of the aspects of paraphrasing a poem that you must take account of:
A poem paraphrase is not an interpretation of what has been written, it is a literal reflection of the meaning of the words used. You are not seeking to understand and show what this might symbolize within the poem.
You may have to consider the context of the whole poem to decide on the specific meaning of any words within it. You should also consider how some words may have changed their meaning over time if you are looking at older pieces of poetry.
A paraphrase of a poem will often need to explain what is being said. Because of this, you will find that your paraphrase will be longer than the original. Often the poet will use just a word or two to suggest an idea, you will often have to use whole sentences to expand on them and explain them.
A poem paraphrase will seek to convert the poetry into "simple" prose. You will not follow the style, rhyme and line breaks employed within the original piece.
You will be seeking to clarify the meaning of the words within the writing, not to add your own interpretation.
You will always maintain the correct person within the paraphrase; if the poem is written in the first person then you will maintain this throughout the paraphrase.
You will not leave any keywords unchanged as you may do in other forms of paraphrasing. You are seeking to show what all of the words mean within the poem so all need to be analyzed and changed to show their meaning not simply repeated within inverted commas.
Always use easy to understand an everyday language that you would use in normal speech. You don't want the reader to have to interpret what you have written, the paraphrase must be easy to read and understand by anyone.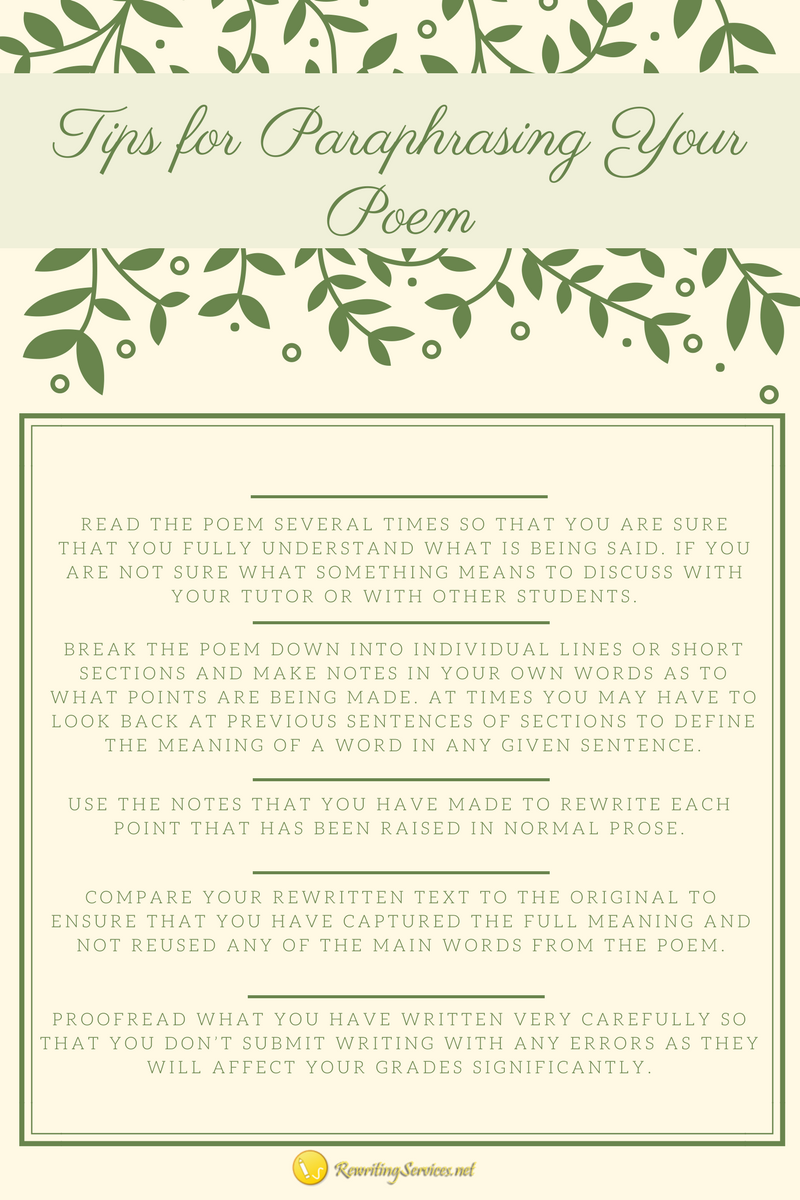 Tips for Paraphrasing Your Poem
Remember you are not trying to analyze the poem, you are looking for a literal translation of the actual meaning of the text. You need to rephrase what has been said in your own words or with the help of an online reworder tool without seeking out any hidden messages that you may feel are there. It is prose without any additional rhyme or rhythm to it.
The following tips will help you with doing your paraphrase:
Read the poem several times so that you are sure that you fully understand what is being said. If you are not sure what something means to discuss with your tutor or with other students.
Break the poem down into individual lines or short sections and make notes in your own words as to what points are being made. At times you may have to look back at previous sentences of sections to define the meaning of a word in any given sentence.
Use the notes that you have made to rewrite each point that has been raised in normal prose.
Compare your rewritten text to the original to ensure that you have captured the full meaning and not reused any of the main words from the poem.
Proofread what you have written very carefully so that you don't submit writing with any errors as they will affect your grades significantly.
Poem Paraphrasing Exercises
The following is an extract from the poem "All Things Can Tempt Me" by W.B.Yeats:
"All things can tempt me from this craft of verse:
One time it was a woman's face or worse–
The seeming needs of my fool-driven land;
Now nothing but comes readier to the hand
Than this accustomed toil…. "
Try your hand at understanding and then paraphrasing this short extract of a poem. To see one possible way of paraphrasing can look at the example on this page.
The following are some easy poems to paraphrase so that you can test your skills: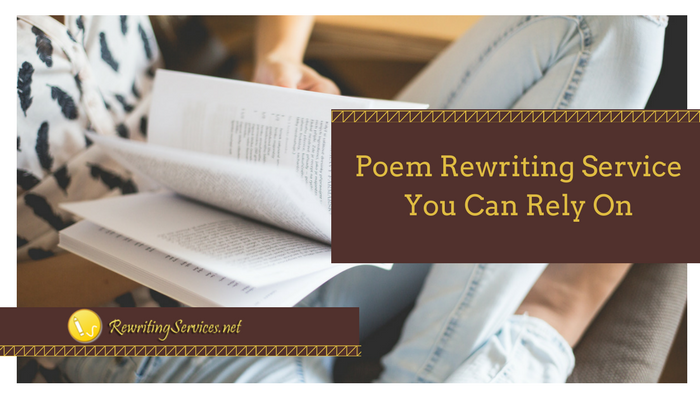 We Can Help with Your Poetry Paraphrasing
Not everyone can manage paraphrasing poetry and this is why you may need the help of our paraphrasing experts. Rewriting with the incredible sentence rewriter doesn`t always mean the ability to paraphrase a whole poem. That is why we provide specialized support through staff that is qualified with a relevant post graduate degree as well as having a vast amount of experience with the paraphrasing of poetry.
They will be able to provide you with a paraphrase that will be both totally unique as well as being free of errors after our proofreading and plagiarism testing. All of our support is delivered quickly and comes with a full money back guarantee based on your full satisfaction.
If you are not sure where to start with how to paraphrase a poem just contact our highly qualified specialists to get all of the reliable support that you will ever need!