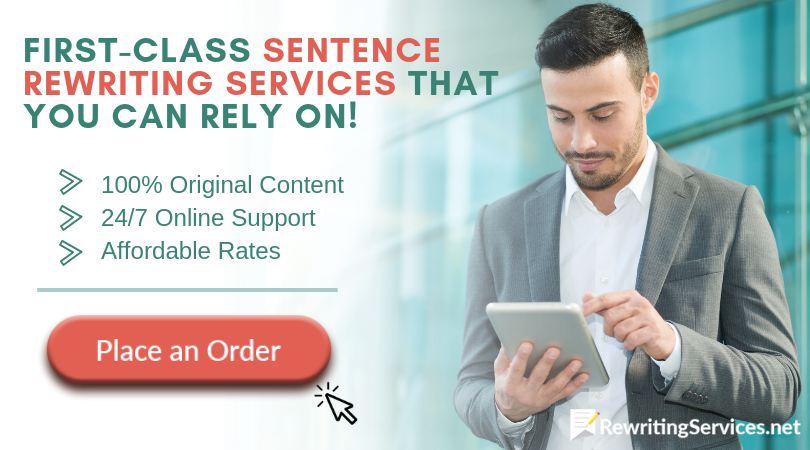 5 Tips on Sentence Rewriting
Rewriting entire articles is all about rewriting each sentence first. And to rewrite each sentence, there are specific rules you need to follow and certain methods you can consider for a better result. No matter your reason to rewrite a sentence, the following tips will help you do it efficiently:
Read and re-read: Want to rewrite a sentence like a pro? Learn what it wants to say, understand its meaning and then you will be able to rewrite it for a much better result. Remember that sentences in an original work can be a little confusing to understand, sometimes even poorly written. The reason to rewrite sentences is to make them more precise and grammatically correct. For that, you must understand what a sentence wants to say entirely. Or else, you may lose the total sense of the original sentence, misleading the reader completely. Also, you must read any sentence that goes before or after, and sometimes you may even have to read the whole paragraph so you can understand the meaning better. But no matter what it demands, make sure you know what the original sentence wants to say.
Deconstruct the sentence: To get the meaning of a sentence, you must know how it is structured syntactically. And the only way to do that is by deconstructing it, taking out the verbal and the noun phrase separately. When you know which word is the verb and which is the noun, you understand more easily what the sentence wants to say grammatically. This way you can identify how the sentence is constructed and how you can make a new one with that information. It is recommended to change both the verb and the noun if possible unless they are unique words that refer to something that can't be changed. Doing this also helps to evaluate any information that is simply unimportant, like an adjective, adverb or even entire clauses that don't change the sentence in any way.
Paraphrase a draft: Now that you know what the sentence is all about and have it deconstructed, you must create a draft by paraphrasing what the phrase means with your own words. Write whatever you think the original sentence wants to say, aiming to use entirely different words and organization. The more different your sentence is from the original, the more likely you are to make a much better sentence rewrite. However, it is important to note that you must transport the original meaning and purpose altogether, or else it won't have any sense to rewrite the sentence. Also, remember that if the verb and the subject are unique, they shouldn't be changed.
Analyze your sentence: Now that you have a sentence rewritten entirely, you need to analyze it in search of any mistake or factor that could be improved. This way you can make sure that you will eventually have the sentence you're looking for, both in meaning and in style. For this, you must make sure it is grammatically correct, that doesn't have any typos and that it delivers. Then, you can analyze the word order, making sure it is understandable for general readers, and that it doesn't confuse in the slightest. Finally, just make sure it holds the same meaning as the original sentence, that you don't add or take out any information, and that it reads clearly.
Finish the rewrite: After you've analyzed the sentence entirely and you've made sure it doesn't have any mistake, wrong information, that depicts the original meaning efficiently and that it reads correctly – you must finish it. How do you do this? Just rewrite the sentence for the last time, making sure all the previous factors were already considered. Your sentence should now be entirely correct grammatically, should be much easier and understandable for any reader, and must improve how the entire text is read.
Remember that rewriting larger texts is all about rewriting each sentence. This means that as long as you are rewriting each sentence correctly, you will have a better material in the long run.
Sentence Rewriter Online for 24/7 Professional Help
Rewriting an entire document can be a hassle especially to those with numerous other tasks. One of the best solutions in order for you to guarantee the quality of your paper is by getting a sentence rewriter online. Our company is a reliable source for rewriting your sentences to make sure that there is no hint of plagiarism or inaccuracies. If you are asked to rewrite your paper but are clueless how to improve it, you can always avail our professional help and use an online reworder. Avail premium article rewriter service from the best writers online now!
Avail Unmatched Services with Expert Rewriting Sentences Online
We understand the challenge with manual rewriting and how this can consume your time. Our services are focused on delivering you efficient and convenient solutions as to make sure that you receive the best rewriting help online. In fact, our sentence reworder online is increasingly popular especially to students who do not have the time to allocate the immediate rewrite. Our company can provide you a personal rewriter that will guarantee the flawlessness and excellence of your papers. Save yourself the hassle and simply avail our professional rewriting services online now!
Rewriting Sentences Online with the Best Writers and Editors!
There is no need for you to spend exorbitant money just to get professional help as you can simply avail our affordable services online. Our sentence rewriter online is specifically created to help those who are struggling with the resume rewriting. We know that it can be stressful to rewrite your paper which is why we strive to give you unmatched services. Our company constantly updates our online article rewriter tool and our services in order to address all the needs of your growing clients. Get started now and avail our top-notch sentence
Get started now and avail our top-notch sentence reworder online for 100% original, non plagiarized documents!