Why Do You Need to Know How to Rewrite a Script?
It is rare that any writer will reel off that masterpiece of a script from scratch in just one sitting. Most writers will need to revisit and improve on what they have written and changed many aspects of their script until it truly meets their needs and of course their vision of what the script should be. The same goes for anyone that is going to use a script, they may have a different vision to the original author and want to modify and adapt the original script to provide them with what they are looking for. Rewriting script as well as rewrite an article, however, can be a lengthy and difficult process so you do need to consider exactly how you will go about it.
Rewriting a Screenplay Scenes
If you are putting on a screenplay you may find that you want to adapt, improve or even just completely rewrite an existing script. This can be for many different reasons:
To improve on a screenplay that is not well written
To adapt to a new setting such as a different country or even in a different time
To write in or out different characters
To use the original idea without issues with plagiarism
Whatever the reasons are to screenplay rewriting scenes or whole scripts the actual process itself can be very lengthy and difficult if it is not a task that you have undertaken before. Also, we can help you with rewriting book.
How to Start Rewriting a Script?
Rewriting a script is not just editing it to improve individual words, sentences and paragraphs to improve the writing. Rewriting for many can mean starting over and making major changes to what you have written.
You need to work through your script and look at:
The overall idea behind the script. Is it sound or do you need to change it?
The plot. Does the plot flow as you expect, does it hold the audience's attention? Are your subplots necessary and do they work with the main flow of the script? Is there a clear beginning, middle, and end? Are there any holes in your plots?
Grade the scenes. Are all of the individual scenes as good as each other? What can be done to improve those scenes that are not up to the standard of the best scene?
Are the characters believable? Are they all necessary? Are they developed well enough?
Is the dialogue correct for the setting and the characters? Is it believable? Is it fast-moving and interesting enough to maintain the audience's attention?
Of course, rewriting a screenplay can depend very much on the reason for rewriting and the audience that you are rewriting for. Always have your audience in mind when you are learning how to rewrite a script. Also, we can help you with rewriting screenplay in case you are interested in it.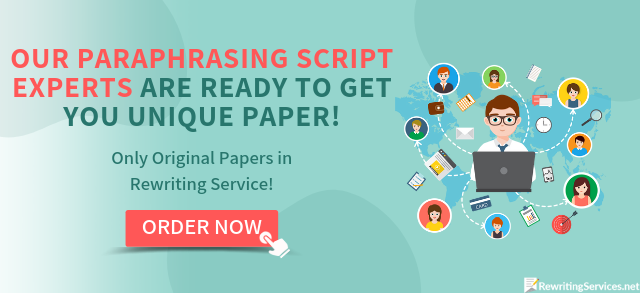 Screenplay Rewriting: Top Tips
Learning how to do good paraphrasing script is not going to be an easy task and you will likely have to put a lot of effort into the task. The following are some simple hints to help you go about rewriting screenplay scenes and whole screenplays:
Start with the big picture. Consider what it is that you are trying to achieve with your version of the screenplay. Do you need to change the overall concept of the play, the setting, or the plot?
Review the storyline. Does it flow and hold together as you would like it to. Does it get the attention of the audience and keep it throughout. Are their holes in the plot? Are their individual scenes that need to be removed or rewritten or does the whole screenplay need a makeover?
Look at the characters. Do they match the actors that you have available? Are they well developed? Are they suitable for the screenplay? What changes do you need to make?
Consider the dialogue. Is it natural and does it match the characters that are being used? Does it engage the audience and get their attention?
How is the overall writing? Does it get and keep the reader's attention? Is it suitable for the subject of the screenplay and the audience that you are targeting?

We Can Help With Rewriting Script
Paraphrasing script scenes and entire scripts can be done so much quicker if you employ a professional service such as ours. Provide us with the reasons for the rewrite, an idea as to what you expect and our rewriters will get to work to develop exactly what you are looking for. You will be provided with a draft for review and will be entitled to as many updates as you feel necessary to meet your needs.
Our rewriter will work with you closely to fully understand why and what you want to paraphrase script and who your intended audience is before rewriting. They will provide unique and well-written screenplay scenes or whole screenplays according to your needs. All of our screenplay rewriting is covered by our money-back guarantee as well as being delivered on time according to your deadlines. We offer examples of rewrites to compare. All of our rewritings is provided on time, plagiarism and error-free.
If you are not sure how to rewrite a script and need guaranteed help just contact our reliable professional script rewriting service today!