Do You Need to Know How to Edit a Novel Professionally?
Rewriting fiction is a very different thing to simply paraphrasing something. You are seeking to ensure that your writing is going to impress your intended audience throughout every scene. A piece of fiction that has a great opening and ending will still not get read through if you lose the reader through boredom part way through.
Rewriting a fictional novel is a highly involved process and requires a huge amount of writing talent and often time. You may have to rewrite your novel several times or parts of it before you are truly happy with the outcome.
Knowing how to go about writing a novel in a way that is going to improve it and better target your audience is hard; however, our specialized support and guidance can help you. We have been helping writers in all genres for more than 5 years and can provide you with all of the help that you need to make your piece of fiction a success. There are nothing impossible for us, we can rewrite book or just some paragraphs for you.
What Is Fiction Literature?
Fiction is a form of writing that usually follows a narrative style; that is you tell a story that will usually involve characters and dialogue. Fiction can fall into many different genres such as:
Love stories
Action adventure
Suspense novels
Horror writing
Science fiction
Crime books
Historical novels
Few successful writers in any of these areas, however, will simply rattle off a novel and publish it as it is. Most writers find that they have to go back and look at what they have written and improved on it. Often they will have gone off at a tangent, have inconsistencies within their plot, or have simply forgotten about something it and left it dangling. This is in addition to any actual problems with their writing itself.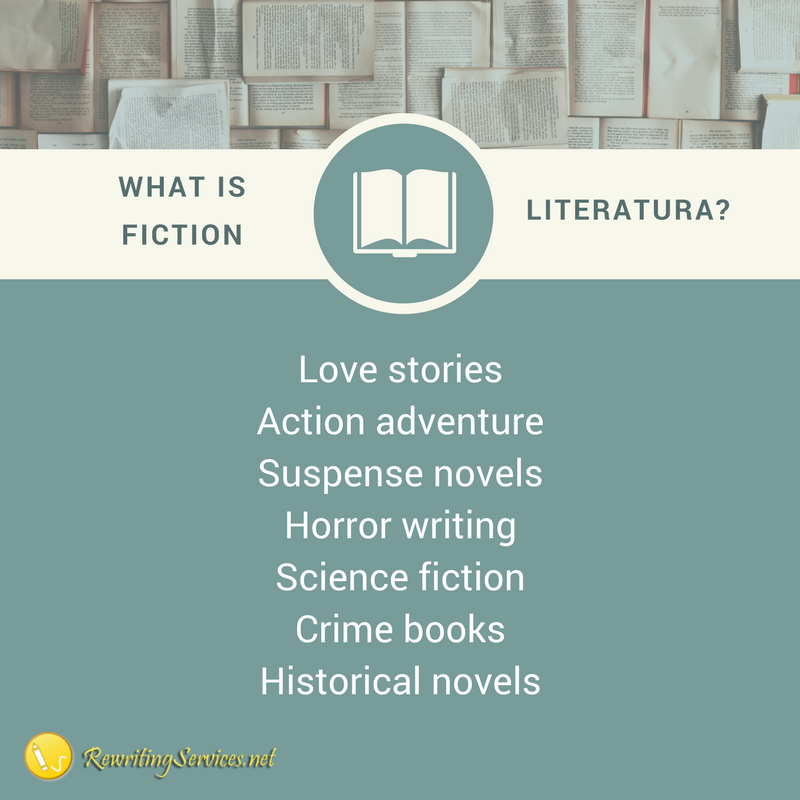 Fiction Novel Edit and Rewrite Checklist
Knowing how to rewrite fiction is not easy. Whether you want to know how to rewrite a story in your own words or you want to edit and improve your own writing you will have a huge amount of work to do. Rewriting requires a huge amount of understanding of what has actually been written and the ability to sit back and look at it objectively.
Before you start to work on your own writing it is often best to put it to one side for a few weeks. If you are still overly familiar with what you were trying to write you may find that you actually see what you intended to write rather than being able to read what is actually there on the paper. Taking a break between writing and revising your work will allow you to look at your writing more objectively.
Often it is best to look at your novel in two ways; firstly by looking at the overall structure and flow of your writing. Look at all of the scenes, what is each one about, who is involved, how do they relate to the overall plot of your story. You may have to remove whole scenes or even add to them to improve the overall flow of your story and keep the attention of your readers.
Within each of your scenes you should consider all of the followings when you come to rewrite:
Who is your audience? Every genre has its specific audience and each has its own very clear set of expectations. You will need to ensure that you have a clear understanding of just who your audience is and what it is that they are looking for. If your scene is not written to their specific expectations then you need to rewrite it accordingly.
Each section or scene needs to start by building up the tension; you need to build the reasoning behind what is about to happen within the scene and get the attention of the reader. If you have failed to do this then your writing may appear boring and you will lose the interest of the reader before then even get into the main part of the scene. If you need to rewrite do so to build up that tension.
Be clear about what your character actually wants; you need to have characters that the reader can identify with. The stronger their wants and desires are and the clearer they are to the reader the more compelling they will appear.
Does your character have obstacles to overcome? A scene where they all just sit down to dinner and discuss the weather or what happened at school today would hardly provide the reader with something to keep their interest. A good read always provides the character with something to overcome; whether that is the obstreperous dinner guest or the love of their life sat with their partner opposite to the main character. The tougher the odds often the more interesting the read.
End the scene with an unanswered question; leave the reader with a cliffhanger that they will want an answer to. This will ensure that they will want to get into the next scene or chapter to find out what will happen. Maintain their curiosity and they will read your novel all the way through. Turn your book into something that the reader just cannot put down.
We Can Help with Rewriting Fiction
Whether you need an editor to rewrite science fiction novel chapters or someone that can rewrite a love story for a different audience than you originally intended we can help. We have put together a large team of editors and writers over the last several years that allow us to be able to select someone that is perfectly qualified and experienced to help you. All of our staff have proven their abilities within the area in which they provide their help and we are confident that they will always fully satisfy your every need.
Using our services for your rewriting ensures that your work will gain the advantage of it being improved by someone with a different point of view that will be independent of your own. Using various sources of criticism rather than just your own will often result in much-improved writing.
All rewriting is guaranteed to be unique and free of any writing issues as we provide you plagiarism testing and certified proofreaders to work on all services. We will always deliver your requirements on time no matter how tight your deadline might be.
To get the best help you will find online for rewriting fiction just contact our highly affordable and dedicated specialists here today for support that you can trust to deliver the highest levels of quality rewriting.