Do You Need to Rewrite Descriptions?
There are two main types of descriptions that you may want to consider rewriting. Firstly there are product descriptions that are within your sales literature and on your website and the other is a job description. While both are totally different you may have a very genuine need to update and improve them. Don`t feel shy to use some tips for descriptive writing, they can make clear this process to you.
You may need to rewrite descriptions for your website for several different reasons such as to improve conversion rates as well as to ensure that the search engines know what traffic to send to you. Poorly performing product pages can be significantly improved with some thought about how to rewrite products description. SEO rewrite will be the best choice for you in this situation.
A job description can be looked at in two ways whether you are a recruiter or someone working within the role in question. Having a clear understanding of what your role does and does not cover allows you to know precisely what you should be doing; it can also provide you with a basis to improve your salary if you feel that your responsibilities warrant more money. It also provides recruiters with a clear understanding of just what they need to look for when they are looking for someone to fill a position.
The following sections will run through how and why you should improve your descriptions by rewriting them.
Rewriting Job Descriptions
Within most industries, job roles tend to evolve as new ideas and technologies are introduced. As such so should your job description. Many companies have out of date descriptions to depict a position that rarely reflects fully what is expected of someone in the role. This can result in people being underpaid for their job or even recruiting people that are just not suited to do the job.
Often you will rewrite your job description to get a raise through showing your additional responsibilities. While recruiters will want then rewritten to provide better guidance as to the types of people they need to recruit. The following steps will provide you with some ideas of how to rewrite your job descriptions:
Put in place a regular process so that descriptions get rewritten by the incumbent and their relevant supervision each year. This will keep them up to date.
Ask the incumbent within the role to review and update the description so that it contains all of their areas of responsibility.
Have the updated description reviewed and edited by their supervisor to confirm its content
Before any recruitment has the description placed through the review process to confirm its accuracy.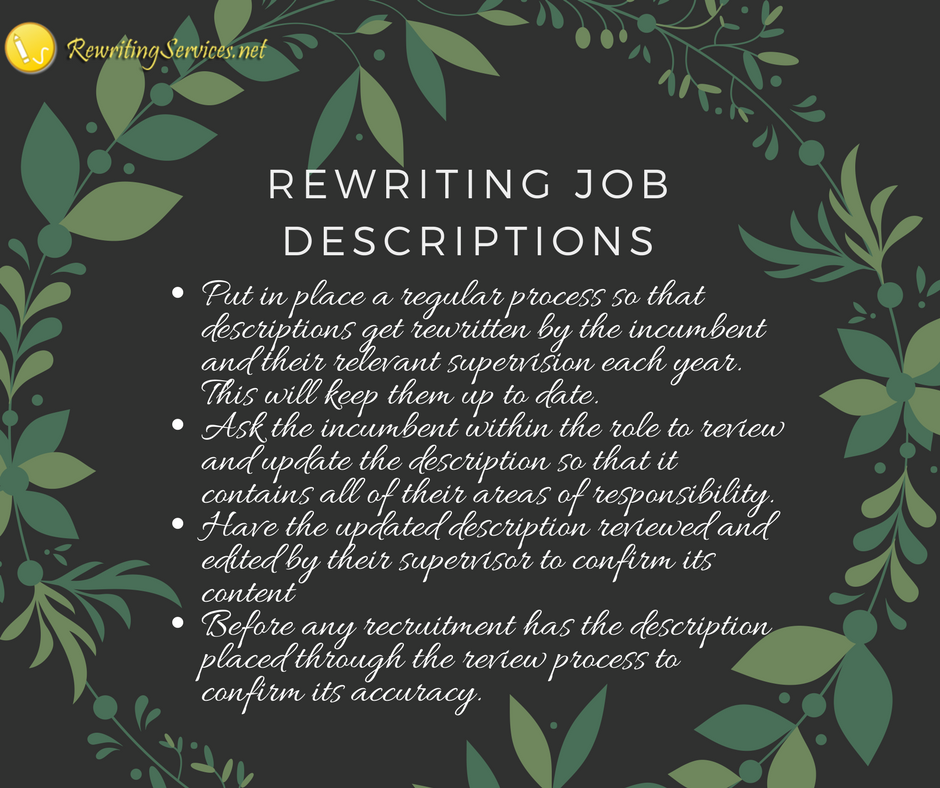 How to Rewrite Products Description
If you are selling products or services you will know that the product description can have a significant impact on how well you will sell as well as how likely you are to be found by the search engines. Poorly converting pages or those that do not attract search traffic should be carefully rewritten to improve your performance.
However understanding how to rewrite your descriptions to achieve this if you have little understanding of what drives conversions or the search engines can be very difficult. The following steps will help you with your rewriting:
Understand who your customer is; are you writing for teenagers with spots that are going to need a lot of persuasion or octogenarians that just want to read a list of facts about your product. Who your audience is will have a huge impact on what and how you will write your description. Understand exactly what they want to hear and rewrite accordingly.
Create a list of benefits and features for your customer that you will use within your product description. This will form the backbone around which you will write.
Ensure that your description is in a format that is easy to scan for information; the visitor will not want to read a mass of prose, they want to clearly see why they should be buying what you are offering.
Understand exactly what online searchers are looking for. This is key to gaining traffic online. You need to fully understand what words and phrases potential customers will put into the search engine to find your product. These words need to be incorporated into your writing so that the search engines see your page as relevant to the search.
Incorporate the keywords effectively within your page using on page Search Engine Optimization (SEO) techniques. Knowing where to put keywords such as in titles and alt tags for images will help you to attract visitors through search. You must also be able to avoid over optimization.
Have a consistent tone for your descriptions; are you looking to be persuasive or do you want to offer your products with a little bit of humor to engage with your visitors. Ensure that your tone is consistent throughout.
Remove any mistakes within your rewriting. Simple issues with your writing can be an instant turn-off to any visitor as it provides a very poor impression of your capabilities. Always carefully proofread all of your rewritings so that there are no mistakes.
We Can Help with Your Description Rewriting Needs
We provide you with professional support with your rewriting through a professional staff that fully understand just how to rewrite your descriptions in an effective manner. Our staff is both highly qualified and very experienced. If you are looking to rewrite products description online you will be working with someone that not only knows how to create a persuasive copy but also how to apply SEO optimization effectively within your pages.
All work that is rewritten will be tested for plagiarism to show that it is totally unique to you preventing any penalties for copied content. It will also be carefully proofread by our experts to avoid any mistakes. All of our services are provided within the agreed deadline and our confidential help is also covered with our money back full satisfaction guarantee.
Contact us here today to rewrite descriptions with our rewriting specialists to improve your visitor numbers and conversions.