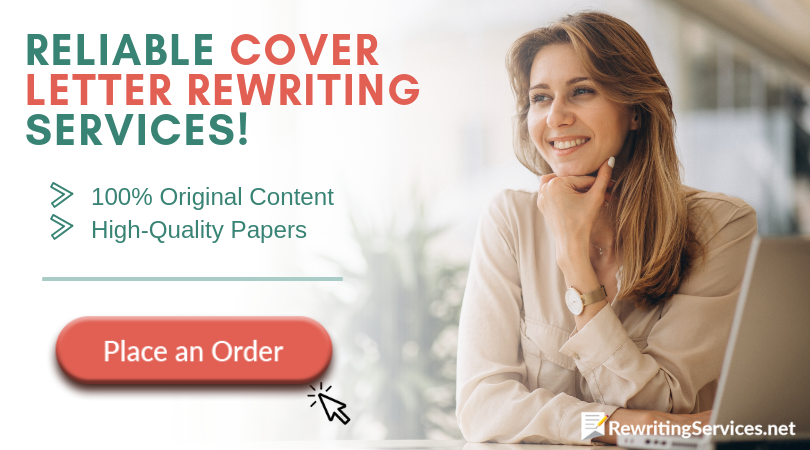 Why Would You Paraphrase Cover Letter?
The biggest mistake that job hunters make is to send the same covering letter and resume out to every job that they apply to. Then they wonder why they never get invited for an interview. Your application must make you stand out if you are going to be seen as a perfect applicant that should be interviewed and using a generic letter that could be for any job out there is not going to help you. In fact, it may have the opposite effect as the recruiter may not think that you are truly serious about the position. Anyway, writing a cover letter is more than rewriting articles for SEO or job applications: you need to put some personal features into it.
It is vital that you know how to reword cover letter pages so that they perfectly reflect what the recruiter is looking for. The covering letter is your opportunity not only to introduce yourself and show your interest; it is also your chance to specifically and clearly show them why you are a perfect candidate for the job.
Always rewrite the letter to target the job that you are aiming for; if you don't you can be pretty sure that someone else will be invited for an interview. Make the recruiters job easy and show them just how good a match you are to their specific needs so that they invite you to interview. When you are not productive enough to create outstanding CV or cover letter, it `s better to use resume rewrite service.
What Should You Avoid when Rewriting Your Covering Letter?
There are many mistakes that you should avoid when rewriting your covering letter to target the job that you are applying to and you must ensure that you avoid them if you are going to get noticed. The following are the top 5 things that you must not do with your covering letter:
Repeating what you have on your resume: this is your opportunity to specifically show how well you meet their expectations. Sell yourself don't simply resist what is in your resume word for word.
Being vague with your letter: the recruiter may have to review hundreds of letters for many different positions. Ensure that it is clear from the subject line exactly what you are applying to.
Failing to open strongly: "I am applying for the position of product manager advertised in…" is just going to send them to sleep before they even look at the rest of your letter. Grab their attention fully; "You need a top performing product manager which with my five years of experience working in a similar role in a leading manufacturer…"
Not adding your top selling points: your letter is there to sell you, so make sure that you do just that. Give specific examples that show just how well you are going to perform in the role that they are advertising and if possible illustrate those examples with monetary values.
Writing a letter that is too long: your letter must be able to grab their attention and show them how well they match their needs in a single page. Any more will simply just not be read as they just have too many others to read.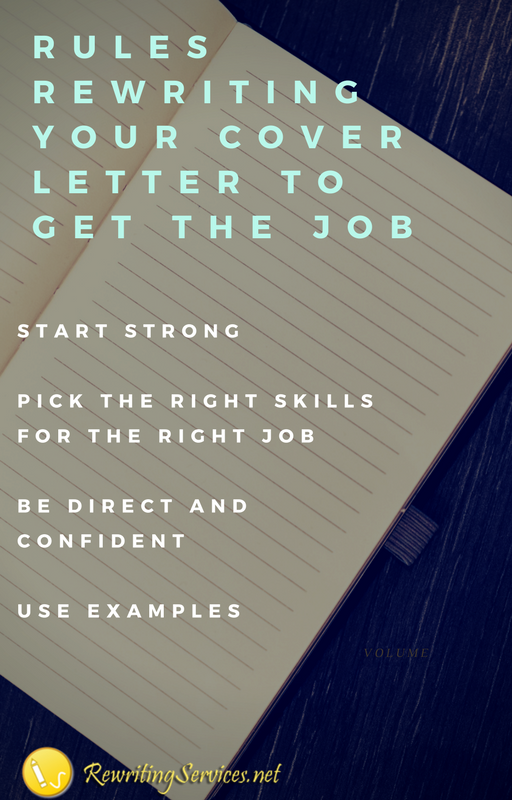 Tips for Rewriting Your Cover Letter to Get the Job
It is not enough to just paraphrase cover letter sections to make them unique; you must carefully target the job that you are applying to. You will not get invited for a job interview if you cannot clearly and concisely demonstrate how well you meet their expectations. The following tips will help you to rewrite the letter effectively:
Address the letter to a named individual if possible; often a quick phone call will provide you with this information.
Use a formal business letter format that is easy to read and professional looking.
Have a clear subject line that shows the position that you are applying to.
Ensure that your opening line is attention-grabbing as well as clearly identifying you as an excellent selection for the role.
Ensure that your main body shows how well you meet their specific needs:

Review the job advert and also the company website to identify their specific requirements for the role.
Prioritize those requirements as to what you feel are the most important things that they are looking for from an applicant.
Select the top 4 or 5 and brainstorm how you can demonstrate best that you meet those requirements.
Write those top points as your main body.

Thank them for taking the time to read your application.
Give them clear instructions as to how you can be contacted and when.
Ensure that you sign your letter.
Proofread your letter very carefully. First impressions count and you will not want them to think that you are sloppy or that you are not interested in the position.
We Can Help with Your Cover Letter Rewriting
Our recruitment letter specialists can help you with all aspects of your application. Our services are totally flexible and we can help you with writing your resume and covering letter for an application or simply help with a cover letter ending phrases to sign off your letter effectively.
Our staff are highly experienced in recruitment for the area of your application as well as having higher level qualifications. They work directly with you through our services to ensure that they fully understand who you are and how they can best match you to the position you are applying for. All rewriting of your letters is done according to your instructions with your information; if you think that anything needs to be changed we offer unlimited revisions until you are fully satisfied that your covering letter will be effective.
We will also proofread your letter so that you will be able to confidently submit knowing that it is free from errors. All work is always completed to a high standard within your time frame as well as being covered by our money-back guarantee.
If you are not sure how to reword cover letter pages simply contact our specialists to get all of the help you need to submit an application that will get you noticed!