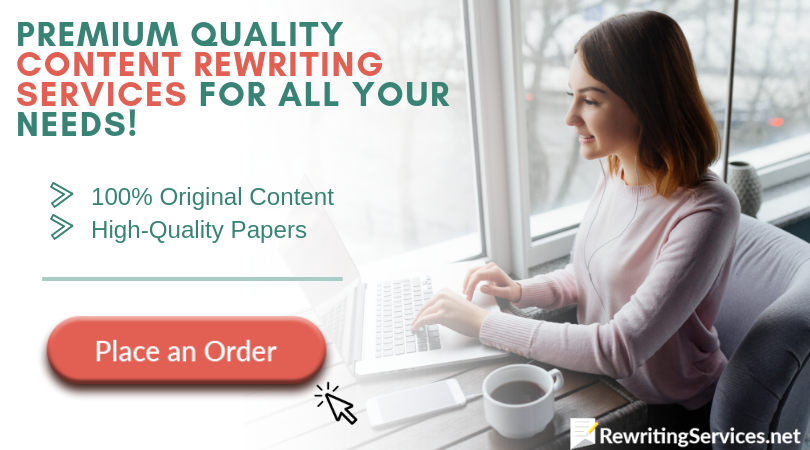 Writing the original content is hard, rewriting could be even harder if you fall within the common gap of content writing myths and if you don't follow any useful tips for rewriting. As it often happens when rewriting content for the blog and website usage, people think that with simple spinning the sentences and achieving a certain level of originality the problem solves itself, partly they're right but Google searching algorithms evolve every day so that webmasters should be always prepared and find the new content strategies if they want their content to be top ranked and useful.
The Most Common Causes Why Your Content Paraphrasing Can Be Ineffective:
Copy pasting (You will be busted by Google)
Poorly spinned content on tools (barely original content)
Content without targeting keywords
Too short piece of rewritten content
Non-informative and old content
Boilerplate content
Content that doesn't stimulates actions
Bad subheadings of the articles
Not long ago webmasters figured that online content spinning tools can resolve the problem of unoriginal content and then it became increasingly popular among black SEO strategies to use tools that are able to turn one topic into hundreds.
"At some point in late 2011 spinning or plagiarism had become a standard, all competitors across every niche we targeted could be found producing some type of spun content. Manual, automatic, through networks (which did the spinning and distribution) or by downloading spinning software and uploading articles to various directories. Who can produce the cheapest content became the name of the SEO game."
Content changer tools era was meant to end one day. With the awful quality of machine rewriting many posts have been ruined not only grammatically, they lost the essence of the initial post, many sites were blacklisted as a result or penalized. Google searching algorithms since then have evolved to detect such content as well as those pieces of content that are keyword overstaffed and now those approaches of content writing are fairly ineffective.
Duplicate content is the cause of major problems, does your site have a piece of content block that repeats on various web pages? If yes, welcome to the club…
Here's the video where the expert Matt Cutts explains all niceties and cases when duplicate content can be severely harmful and when you can avoid the wrath of Google:

Re-Imagine Your Content: Some Essential Tools
Fighting duplicate content:
Duplicate Page Finder tool might be of a great help for you to find the duplicate content on your site. Simply go there and paste your site's URL to make the check. If such content has been detected there're 2 ways to sort the troubles:
Make the changes so that one our of two similar pages contains 100% original text.
Add a no-index tag on the page and Google spiders will not be able to index the contents.
Worse if the duplicate content has been "borrowed" from another site, to find out if your site has plagiarism issues you need to follow the steps:
Open Siteliner.com. Paste your site's URL and proceed to "Go" button.
Just after Siteliner obtains the results they will be presented on the page, click on the link in the resulting list and you'll be shown how much contents should be rewritten.
Also, it is a good practice for every website or blog owner whose site is open for comments to check and moderate them for duplicate content first before posting. There are many services available online through which you can run the piece of content for originality check, smallseotools.com is the one of those that can be reached online.
Rewriting with keywords:
Although several years ago there was a straight correlation between the keywords using in the text and Google ranking it doesn't work like that now. On the contrary, if you over-staff the article with them search engines will qualify this as cheating and it will negatively impact your chances for first positions. When you receive the rewritten document make sure the density of keywords is optimal which is 5-7%, for such purposes you also can use online services like Smallseotools.
Keeping the readers in action:
Lots of formal clichés, as well as passive voice usage, ruin the emotional appeal in articles. While doing the article rewriting make sure you include more verbs and more action generating sentences. Finish the final paragraph with conclusions and attach the call to action relevant to the action you're supposing to obtain – buy, subscribe, leave an e-mail share like or repost. Instead of saying "check what we offer at our store" write "hurry up, buy the bestseller while it's still in stock". Instead of "effective action" try a"killing action" and so on.
Rewriting headlines:
If we talking about headlines rewriting it is important to keep in mind that when you reword text the resulting line can be more effective than the original one. There're few things to keep in mind to create a compelling one – use numbers, always use H1 for headings, H2 for subheadings and H3 for second level subheadings and don't forget to include the main keyword in the main headline.
Optimizing the length of rewritten content:
Non-informative piece content is usually out of sense whereas informative one can carry arrays of useful information to users. Thus, it is generally considered the more words in the article the better and more relevant it is.
SerpIQ agrees to the statement and provides the information, based on research and proving that lengthy pages are certainly winning the best positions:
"As you can see, there is a drop in content length as we move from first to tenth position. On average, 10th position pages have 400 less words on the page than first position pages. This does point to the trend that higher ranked sites have more content, but keep in mind that this graph is not segmented in any way – this is just a graph of all of the SERPs we've analyzed."
If your site lacks the new content influx every several days of weeks it's most certainly will not be highly ranked. Old content pieces that lost the previous popularity are also rubbish that should be removed or changed with the help of SEO rewriter. Don't think that you can just remove the information and then post it again, – it won't do the trick and will just annoy your visitors.
The Google crawler indexes the freshness of the information you've posted on the web page. Unfortunately, the fact that you have 100% original and fresh to death content will not guarantee the highest rankings no matter when and how it was written, here one that has more backlinks will determine SERPs results.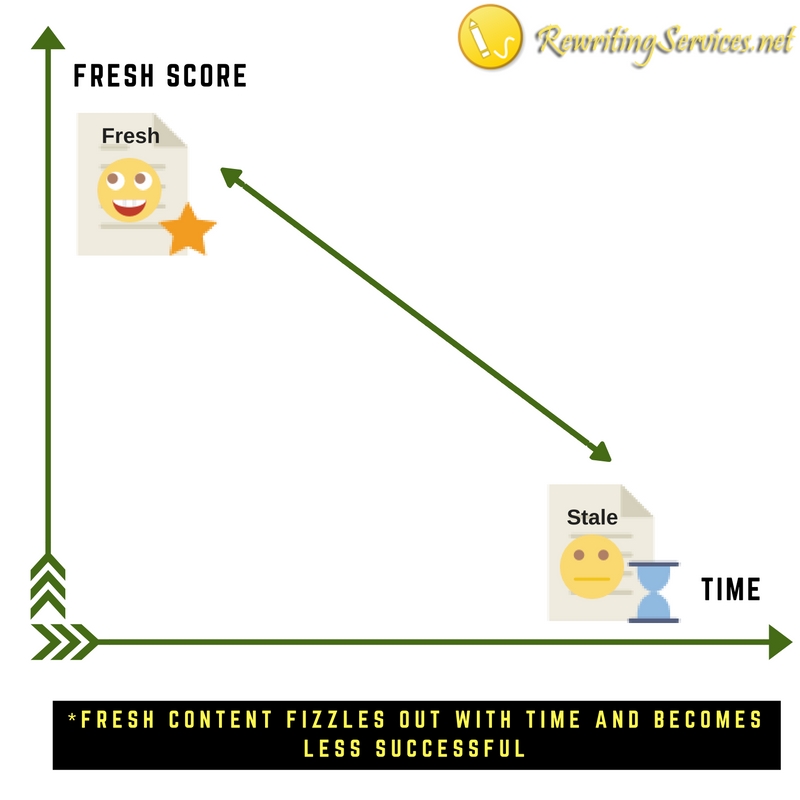 Fixing boilerplate content:
Boilerplate content – is the general term for referring to duplicated pieces of content on your site, such inclusions will most often do any harm for the site if the overall percentage of such is not critical. To avoid boilerplate content you need to keep the track of using the same information on various web pages and prevent duplications, especially when it comes to writing SEO titles and descriptions, they should be unique for each and every page. Generating the unique information is the best way to improve your rankings so that sometimes fast rewriting services can be the best option.
Savvy site owners and webmasters whose work is closely related to site optimization should understand that there's more than 200 Google ranking factors and some of them are determining your content relevance very aptly so if the cheating techniques are popular one day no one guarantees they will be good for tomorrow. The only way to fetch that guarantees for you is to ensure you get the original and highly relevant content, rich in meaning and informative, not respinned by machine language but rephrased by human author and intelligently optimized with keywords for search.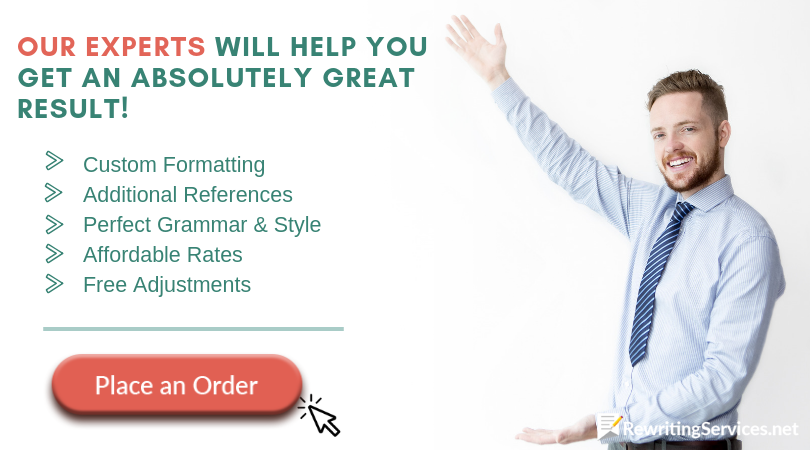 We Can Help with Your Content Rewriting Needs
We provide you with professional support with your rewriting through a professional staff that fully understand just how to paraphrase content in an effective manner. Our staff is both highly qualified and very experienced. If you are looking to rewrite content online you will be working with someone that not only knows how to create a persuasive copy but also how to apply SEO optimization effectively within your pages.
All work that is rewritten will be tested for plagiarism to show that it is totally unique to you preventing any penalties for copied content. It will also be carefully proofread by our experts to avoid any mistakes. All of our services are provided within the agreed deadline and our confidential help is also covered with our money-back full satisfaction guarantee.
Looking for effective content rewriting that works for you? Look no further, we prepare the best solutions!